In 2022 I was awarded the Geoscience Society of New Zealand Hayward Geocommunication Award in 2022 
Here are some quotes from the award presentation: 
"Julian Thomson is New Zealand's leading full-time geo-communicator. His work oozes enthusiasm, excellence, innovation and scientific accuracy. Julian receives this award for two innovative projects he has initiated and contributed to over the past three years."
"The first is the Out There Learning YouTube Channel"
"The second project is the Geotrips website that provides information free to the public explaining the origins and stories of numerous geological sites around New Zealand."
"Julian has made it his ideal to create educational 'aha moments' for others over 3 decades as a teacher and geo-communicator, and in doing so has done a great service to geoscience in New Zealand. He is richly deserving of this award."
In 2019 I was awarded the Science Communicators Association of New Zealand prize for 2019 from SCANZ president Laura Goodall. The award was for leading the creation of the GeoTrips website.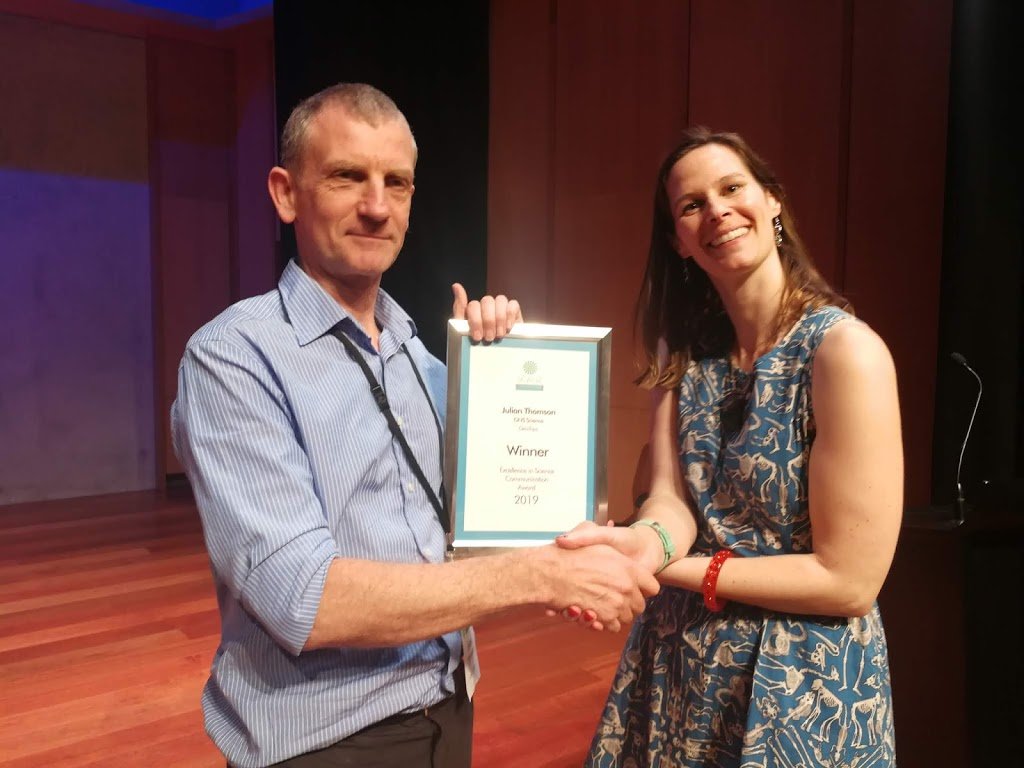 In 2004 the Royal Society of New Zealand awarded me a one year Teacher Sabbatical Feollowship which allowed my to work with scientists from the Antarctic Research Centre at Victoria University, GNS Science and also the Paul Scherer Institute in Switzerland. The theme was Glaciers and Climate, and I spent the year assisting with logistics and mountain safety on expeditions to the Swiss Alps, Ruapehu, Tasman, Brewster, Fox and Franz Josef Glaciers. The work included mass balance measurements, radar surveys and drilling ice cores. It was this year that transitioned me towards working with scientists as an educator and communicator.