After 12 years living my dream job at GNS Science in New Zealand, I left the organisation in early January 2020 to become a self employed educational consultant and science communicator.
So why leave GNS and expand my horizons?
Here is my Why:
There have been so many incredible highlights from my time being connected with GNS, going back as far as 2001 that I find it hard to write a full list, but here is a taster:
running field trips for students and teachers all over New Zealand, including exploring glaciers in the Southern Alps, on the volcanoes and many other fascinating locations,
being the logistics manager for the Alpine Ice Core project, drilling ice on several glaciers in the Southern Alps
working in Antarctica as an educator for the ANDRILL sediment coring programme
Being a script editor, science advisor and presenter for several TV documentaries shown to a worldwide audience
Creating the GNS Science YouTube channel, by far the most popular video channel for any New Zealand university or Crown Research Institute
Creating the GeoTrips website that shows interested non specialists where they can explore geological outcrops, landforms or informative displays.
Science Communicators' Prize for creating the GeoTrips website
Best of all has been to get to know a huge range of teachers, scientists, students and others, many of whom I hope to continue to work with.
In my new role I will continue to work independently with science organisations, schools and individuals who are interested to communicate about geoscience, ecology, education and adventure in the outdoors.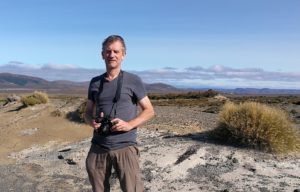 Julian Thomson, Rangipo Desert with logs burnt by the Taupo Eruption,